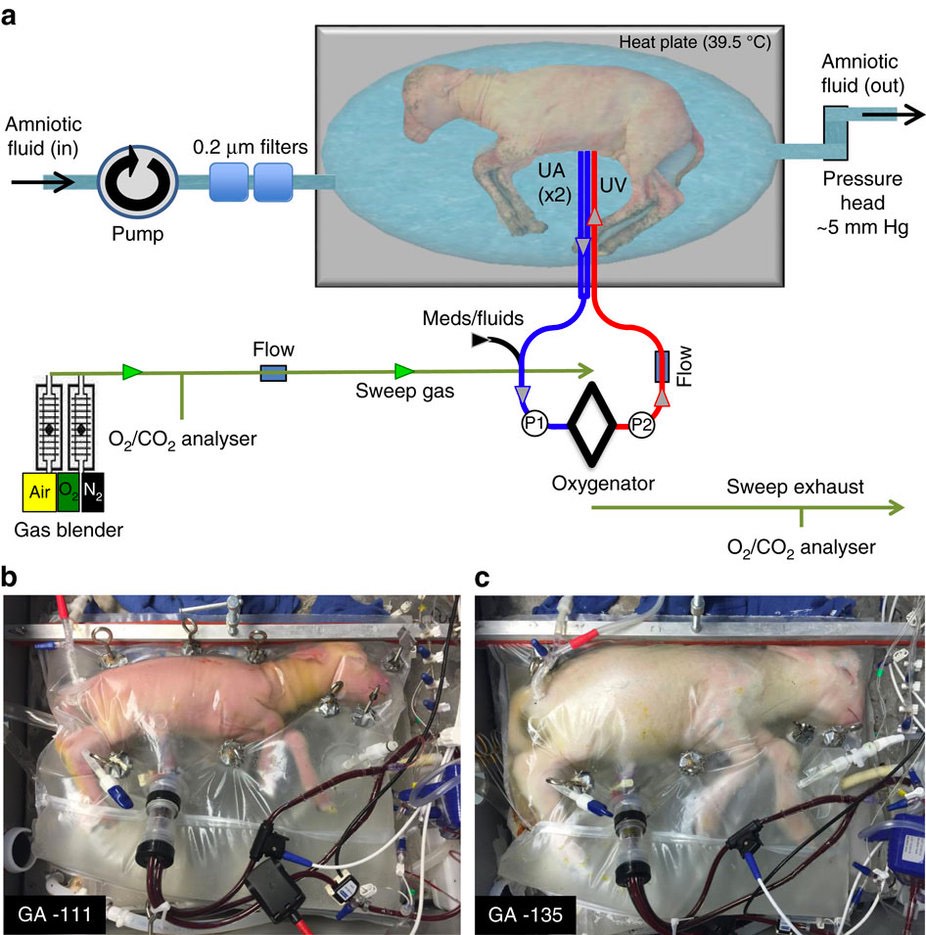 È stato testato con successo il primo utero artificiale dal Children's Hospital of Philadelphia su alcuni agnelli nati prematuri.
Il sistema è stato progettato proprio per assistere i neonati nati prematuri entro le 22 settimane che normalmente avrebbero limitate possibilità di sopravvivenza ed elevati rischi di danni permanenti alla salute per il ridotto sviluppo dei polmoni. Ora un utero artificiale potrà portare a compimento la gestazione in modo analogo a quanto avverrebbe in un utero materno permettendo il completo sviluppo del feto.
Per l'esperimento sono stati scelti agnelli a causa dello sviluppo, analogo a quello umano, dei polmoni durante la crescita fetale.
In the developed world, extreme prematurity is the leading cause of neonatal mortality and morbidity due to a combination of organ immaturity and iatrogenic injury. Until now, efforts to extend gestation using extracorporeal systems have achieved limited success. Here we report the development of a system that incorporates a pumpless oxygenator circuit connected to the fetus of a lamb via an umbilical cord interface that is maintained within a closed 'amniotic fluid' circuit that closely reproduces the environment of the womb. We show that fetal lambs that are developmentally equivalent to the extreme premature human infant can be physiologically supported in this extra-uterine device for up to 4 weeks. Lambs on support maintain stable haemodynamics, have normal blood gas and oxygenation parameters and maintain patency of the fetal circulation. With appropriate nutritional support, lambs on the system demonstrate normal somatic growth, lung maturation and brain growth and myelination.
consigliato da Rhadamanth